The directors, coaches, and affiliates of AiR CiTY CHiCKS are united in creating an environment where players can learn life-enhancing qualities such as discipline, self-respect, sportsmanship, teamwork, how to set & reach goals, work ethic, self-esteem, confidence & cooperation; while also developing fundamental & strategic skills of volleyball.
AiR CiTY CHiCKS offers some of the best coaches in the area and we assure you that AiR CiTY CHiCKS won't sacrifice quality coaching for anything!
**Order Your CHiCKS' Spiritwear Now!**
CHiCKS' players, parents and coaches should have received information via email about ordering CHiCKS' SPIRITWEAR for the 2014 club season. You can order spiritwear items (t-shirts, hoodies, crewneck sweatshirts, warm-ups, polo shirts & bags) in time for Christmas! ORDER DEADLINE: 10 pm THIS WEDNESDAY (Dec. 11). Order ONLINE at: SPIRITWEAR
**FREE Introductory Volleyball Clinic**
AiR CiTY CHiCKS will be sponsoring a FREE Volleyball Clinic for BEGINNER players in grades 1-6 on SUNDAY, DECEMBER 15. The clinic is open to girls and boys. PLEASE NOTE: This clinics is NOT OPEN to current CHiCKS' players. Information is in the flyer shown below: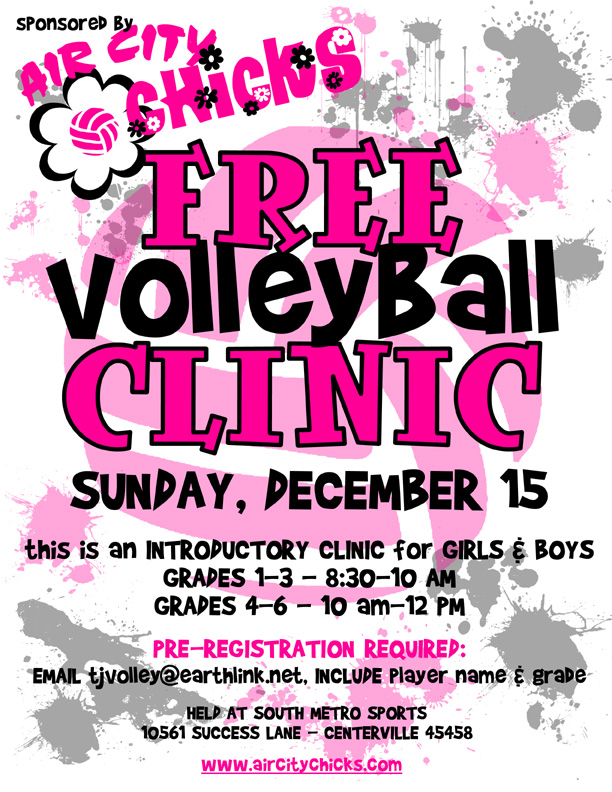 **December & January Practices Posted!**
Practice schedules for December 2013 and January 2014 are now posted on our PRACTICES PAGE. Please use our practices page to monitor any updates or changes in your team's practice schedule.